Black Friday 2013 Opening Times & Store Hours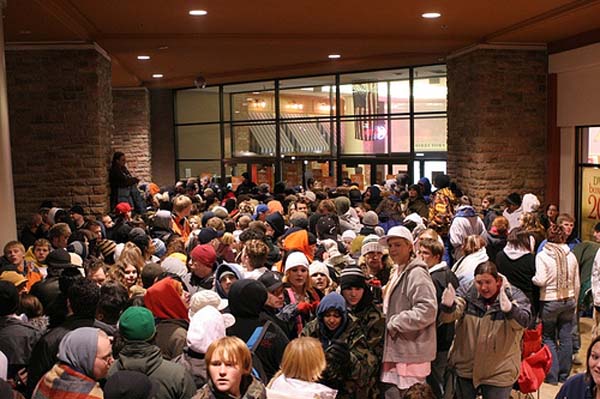 Black Friday is the biggest shopping day of the year! All over the US, people awake at insane hours to be among the first to line up at their favorite stores. While holiday shopping traditionally has started on Black Friday in the wee hours of the morning, a trend has been emerging over the last few years where Black Friday opening times have crept earlier and earlier and moved into Thanksgiving Day itself. This has obviously caused lots of controversy but the fact is people keep showing up to shop on Thanksgiving Day. No matter what you think about the store policies for holiday hours, their decision to keep opening earlier is fueled solely by consumer demand.
Looking at Black Friday 2013 opening times, the trend continues where more deals begin late on Thanksgiving Day (November 28, 2013 this year). Depending on the store, their hours may differ. I've went through and compiled Black Friday hours for a number of the top retail stores. It's interesting to look at the average opening time for 2013.
List of Black Friday Opening Times 2013
Lowe's: 4AM Thanksgiving Day
K-Mart: 6AM Thanksgiving Day
Toys R US: 5PM Thanksgiving Day
Walmart: 6PM Thanksgiving Day
Sports Authority: 6PM Thanksgiving Day
Best Buy: 6PM Thanksgiving Day
Sports Authority: 6PM Thanksgiving Day
Old Navy: 7PM Thanksgiving Day
Target: 8PM Thanksgiving Day
JC Penney: 8PM Thanksgiving Day
Kohl's: 8PM Thanksgiving Day
Macy's: 8PM Thanksgiving Day
BonTon: 8PM Thanksgiving Day
OfficeMax: 8PM Thanksgiving Day
Sears: 8PM Thanksgiving Day
Office Depot: 8PM Thanksgiving Day
Dick's Sporting Goods: 8PM Thanksgiving Day
Staples: 9PM Thanksgiving Day
———————————————————
Gamestop: 12AM Black Friday
Cabela's: 5AM Black Friday
Bass Pro Shops: 5AM Black Friday
Meijer: 6AM Black Friday
Christmas Tree Shops: 6AM Black Friday
Sam's Club: 7AM Black Friday
RadioShack: 8AM Black Friday
Ikea: TBA Black Friday
Nordstrom: TBA Black Friday
As you can see, the majority of large retailers are now opening up well into Thanksgiving Day instead of on Black Friday for 2013. 2013′s Thanksgiving Day stores hours are the earliest that we have ever seen. With stores like Lowe's and K-Mart opening up in the wee hours of Thanksgiving morning, it makes me wonder if more and more stores will have opening times early on Thanksgiving Day in 2014.
Hopefully this list of Black Friday opening times helps you plan your 48+ hours of shopping madness. If you plan on shopping both days, you can divide up the stores by their opening times and make your shopping decisions wisely.
Black Friday 2013 Opening Times & Store Hours
by
Trevin